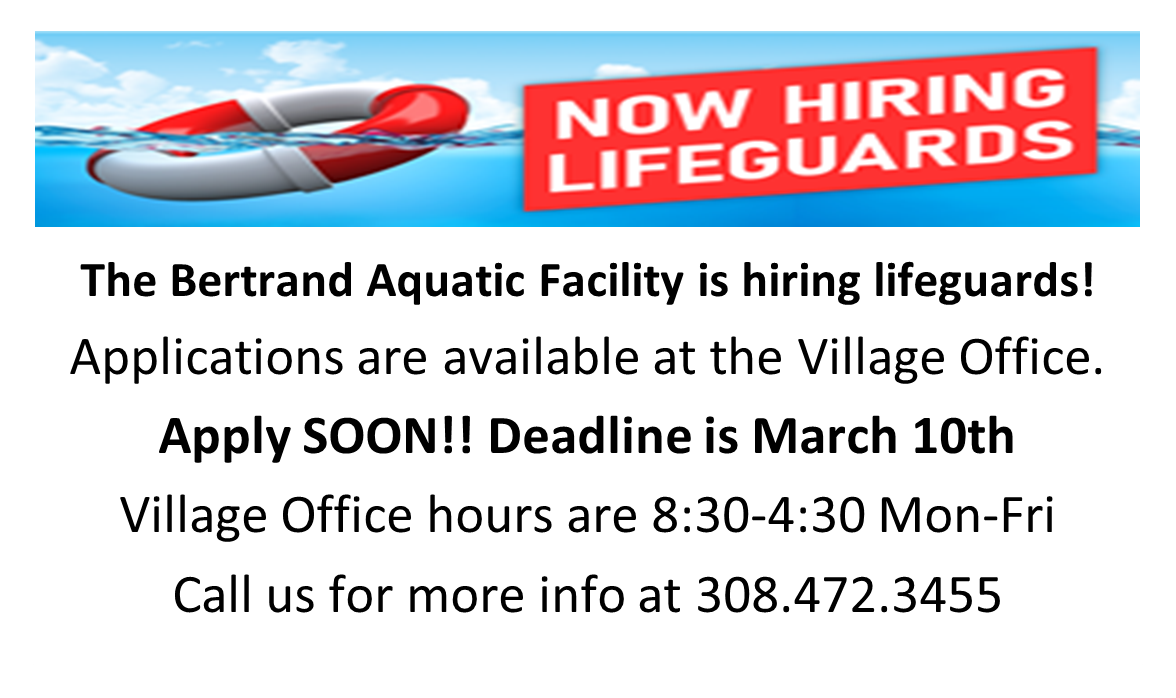 Choice Gas Selection Period
The 2022 Nebraska Choice Gas Program selection period will run from April 1 through April 21, 2022. During this period, natural gas customers can choose their natural gas supplier and pricing option for the upcoming gas year, which begins June 1 and runs through May 31, 2023.
ACE, the only community-owned natural gas supplier in the program, will again be among the competing suppliers. ACE was formed by Nebraska communities to ensure competition in the program and to serve as an advocate for customers.
At the direction of the ACE Board, ACE returns money to its member communities, which includes Bertrand. ACE has returned more than $38,000to Bertrand for community betterment use.
ACE encourages customers to actively make a selection and offers several competitive pricing options. Pricing during the selection period is available on ACE's website: www.ACEenergy.org or by calling (800)454-4759.
Spring Cleaning Time – May 1st to June 1st
There will be a roll-off dumpster located at the Bertrand Community Building.
If you have items that can fit in the dumpsters throughout the alleys, please do so. This will save space for larger items, such as couches, mattresses, etc. in the roll-off dumpsters.
The Yard Waste Site is open 7 days a week. Use your key card to gain access. The key card equipment at the Yard Waste Site was recently updated. If you are having issues with your card, please contact the Village Office at 308-472-3455.
If you need assistance hauling anything the the Yard Waste Site, please contact the Village Office. Limit to one pick-up per household.
Metal, appliances, and white goods can be taken to the Yard Waste Site. Refer to the site map for specific locations. Tires, paint, and batteries and NOT allowed in either the alley dumpsters or the roll-off dumpsters. Please dispose of these items at a different location.
Please follow all of the dumping instructions outlined in the policies and site map. Anyone violating these policies will be fined up to $250. Copies of the policies and site map are available at the Village Office.
Village Food Panty
The Village's Food Pantry is located at the Village Office, 507 Minor Avenue, Bertrand. This is available Monday through Friday from 7:30 AM to 4:30 PM, or private pick ups can be scheduled by contacting the Village Office. Individuals may use this service up to 3 times per year. Monetary and food donations are always welcome! Please contact the Village Office at 308-472-3455 with any questions. Forms for Thanksgiving and Christmas boxes from the Phelps Community Pantry in Holdrege are also available at the Village Office.
Village Hall Rental
The Village Hall is available to rent on a daily basis. The cost is $25.00 per day. Please contact the Village Office for available dates.
Hall Rental Guidelines
Hall Cleaning Checklist